Search Engine Optimization (SEO)
There are many Internet marketing and search engine optimizaiton (SEO) companies to choose from, but only a fraction can help your company's website move up in the search engine's rankings.
Beware of any SEO companies promising you instant page one search engine results.
If they tell you this they are:
A. Making false claims.
B. Using whats called "black hat techniques" which could result in the search engines banning your site from search results.
C. They own Google, Yahoo or Microsoft. (highly unlikely)
PPC7 uses search engine optimization methods within the guidelines of all the major search engines and over time you will see your website start to show up higher in the search engine's rankings. SEO is an investment in the future of your business. Search engine optimization is not an overnight process and is a combination of many different strategies. Once complete, the process of obtaining higher search engine results can take weeks or even months for certain key word phrases. Be patient. The search engines will get to your site and index it. The reason your competition shows up higher in the organic listings now is that their websites were optimized sometime in the past. The sooner you optimize your website the sooner you will start to see it move higher in the search engine's rankings. If your website is not optimized and your competiton's website is, yours will never move up in the search engine rankings.
PPC7 can help your small business with a complete search engine marketing program. We will optimize your website so that search engine spiders can find your site, index it and help you gain higher rankings in all the major search engines. PPC7 works with small businesses to combine search engine optimization (SEO) and pay per click (PPC) programs into a search engine marketing package that works best for each individual company.
Let us help you get your small business website in front of potential customers on the web, today!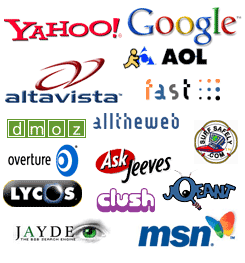 Small Business Search Optimization (SEO) Program
Our small business search engine optimization (SEO) plan includes the following:
Setup of optimized title and meta tags (maximum 10 pages)
Check internal link structure for errors
Site map creation (XML and HTML)
Alt-text for all images
Keyword analysis
Review and setup heading and anchor tags
One time search engine and directory submission to major search engines
Consultation on inbound linking program
Local search engine optimization
Inclusion in search engine local business results
Website analytics creation where applicable
Check XHTML, HTML code and CSS for errors